REVIEW: Susan Enan @ Our House (Eugene, OR – 7/15/10)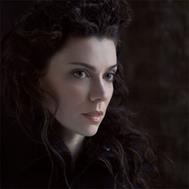 FYI… PHOTOS of the SHOW at the BOTTOM
UK-native singer-songwriter Susan Enan got a break in 2003 when, after hearing her Moonlight -EP-, she was asked to go on tour with Cincinnati-based but nationally-known folky-pop band Over the Rhine.  I got a chance to see Susan on that tour twice and bought that little indie recording.
Several years in the making, her full-length album Plainsong expands on that initial EP with some suberbly crafted acoustic pop.  It has recently garnered some acclaim and mainstream exposure…  Paste Magazine noted Plainsong as one of the "eight criminally underrated albums of 2009."  To kick off this tour, she did a live session at Paste studios in Atlanta, Georgia (check link below for video of Live @ Paste).  One of the cornerstone songs of Plainsong, "Bring on the Wonder," features Sarah McLachlan and was recently on the Fox crime drama BONES.  Sarah McLachlan has recently recorded her own version of Susan's song for her upcoming album – Laws of Illusion.
During last night's show, Susan shared with us that she was trying to find a way to do something unique.  She had done a couple "accidental" house shows in Europe and figured she'd give house shows a try on a larger scale.  Personally, I had been to a handful of house concerts (recently: David Bazan of Pedro the Lion in 2009 & Fishtank Ensemble earlier this year), but I'd never hosted a house concert before.  Well, there's no better time than the present… so I volunteered.
The Eugene show was roughly 1/3 of the way through the North American leg of Susan's Bring on the Song – House Concert Tour.  She brought her guitar, keyboard & voice and serenaded us on our back patio amidst a mild summer Oregon evening.  The audience brought a few extra chairs, some wine, beer, and snacks.  It was truly moving to be able to listen and interact with Susan in such an intimate setting.  A gentle breeze, a wandering pup, random neighborhood noises, and beautiful song.  Bring on the song!
Setlist: about an hour
(per written setlist… but may have switched around a bit)
If You're Feelin' Low
Skin, Bone & Silicone
Monoplain
Bring on the Wonder
Don't Worry
Ingrid Bergman [Woody Guthrie]
Bird
On Your Side
Love Song
We All Belong Here
Moonlight
Short and sweet and highly memorable.  We all got to chat with her a bit after the show, and it was nice to not be stuck in a smokey bar buying overpriced beer and snacks while sitting 30+ feet away from the artist.  If you have the opportunity to see an upcoming house concert of Susan's – do it! If you get an opportunity to host a house concert for her (or anyone) – do it! It's totally fun!!  First time hosting, hopefully not the last…
more photos below
The Appropriate Linkage:
Check out more tour dates below.
~Dan – np: Lovage – Music To Make Love to Your Old Lady By
SUSAN ENAN PHOTOS
all pictures (cc) 2010 Daniel Temmesfeld &
Margaret O'Brien (and one by Susan Stumpf),
you may use freely under a creative commons attribution
(click for larger)
Summer 2010 – North America House Concert Tour Dates
go to susanenan.com for info/ticket availability
6/30 – Atlanta, GA

7/3 – Sherman, TX

7/5 – Lawrence (nr Kansas City), KS

7/8 – Salt Lake City, UT

7/10 – Burlingame, San Francisco Bay, CA

7/13 – Harbor/Brookings, OR

7/15 – Eugene, OR

7/16 – Portland, OR

7/17 – Seattle, WA

7/19 – Vernon, BC, Canada

7/21 – Helena, MT

7/24 – Winnepeg, MB, Canada

7/26 – St. Paul, MN

7/28 – Dubuque, IA

7/29 – Chicago, IL

7/31 – Hamilton, MI

8/1 – Columbus, OH

8/5 – Nashville, TN

8/6 – Asheville, NC

8/8 – Reston, VA

8/20 – West Grove/Kennett Square, PA

8/21 – Franklin Square, NY