Posts Tagged 'Hip-hop'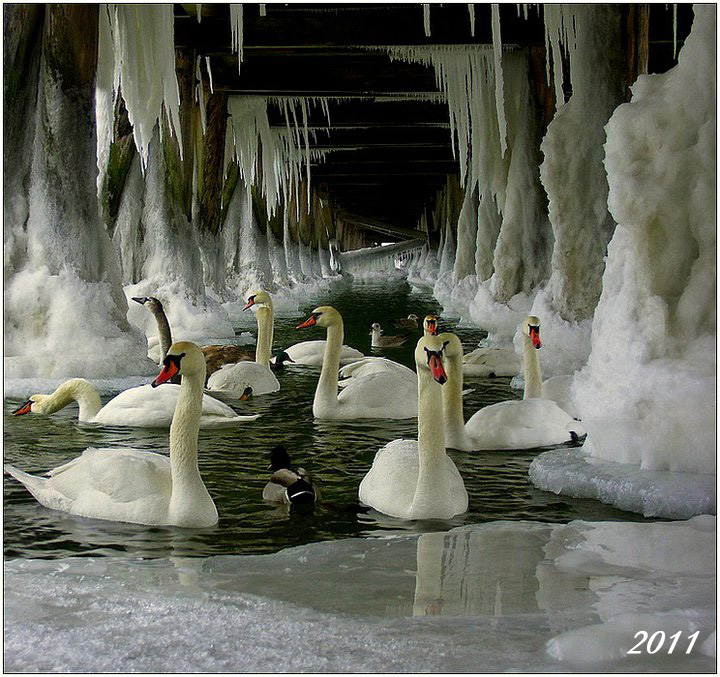 Time for this year's mix CD, except I decided to go CD-free this year.  It's still formatted to stay contained on one CD (20 tracks ~77 mins); so if you want to download the whole shebang and burn to a CD – go for it!
Check out 2009′s mix over here and 2010′s mix over here.  No major theme this time like some of my prior mixes (4 Elements & A-to-Z mixes)… the only rule I placed before myself was that everything is current (i.e.- released in 2011).  This year's mix ended up mellower than most mixes from me.  There are a few rock songs, but whilst re-listening, it's definitely less rocky.  I hope you enjoy.
The following songs were put on the mix from mostly lossless sources where possible and for promotional purposes only (read: free direct market advertising to people who decidedly love music). Most of the artists on this compilation are independent (put out the music themselves) or signed to smaller, independent labels. If you like what you hear, check out their music / support them with your wallet if you are able. The artists' Webpage, Facebook, and Amazon links are available for each song below. I've also included concert review links if I've seen the artist recently.
Download the ZIP File (136M) available *HERE*, extract then drag & drop the mp3 files to your iTunes (or other playback software).
All Songs Streaming Playlist (click arrows to skip back & forth… for individual songs find them below. Note: Track 20 has explicit content.)

«°¤°» ¤ ¤ «°¤°»
01 Puscifer "The Green Valley" from Conditions of My Parole

Tool / A Perfect Circle frontman Maynard James Keenan makes wine and makes other music in his time off from Tool and APC.  I loved Puscifer's debut and the subsequent EP, but this album tops it all.  It's a brilliant record, recorded in one of his wine cellars with his friends – featuring backing vocals from Carina Round.  It's self-released by Puscifer music with a small distribution partner (available in indie shops, primarily).  While there are some rockers (maybe 1/3 of the album), this song is fairly representative of the feel of the album.  It's my #1 album in 2011.

«°¤°» ¤ ¤ «°¤°»
02 My Brightest Diamond "Be Brave" from All Things Will Unwind

Shara Worden (aka My Brightest Diamond) took some time off since her last album – 2008′s A Thousand Shark's Teeth.  She put out some stunning collaborations in the past three years (including her first kiddo); so the lapse in studio work was a-OK.  On this album, Shara teams up with NYC-based ensemble yMusic to create a lush backdrop for her gorgeous voice.  It's my #2 album in 2011.  I can't praise it enough!

«°¤°» ¤ ¤ «°¤°»
03 Ric Hordinski "My Pretty Bagatelle" from Arthur's Garden




Guitarist extraordinaire Ric Hordinski (formerly of Over the Rhine – in their rockier days) has been a favorite of mine for a LONG TIME. He's the kind of guitarist who is subtle and unassuming in his approach, but you end up wracking your brain how he gets such lush and complex sounds out of the frets.  This album was part of a Kickstarter campaign, and while the physical manifestation hasn't hit my mailbox yet, I was happy he sent it out to Kickstarter funders early.  It's such a great record… you can get it now on bandcamp!
«°¤°» ¤ ¤ «°¤°»
04 Goddamn Electric Bill "Sin" from Jazz




GdEB is the one-man brainchild of Jason Torbert.  He hits the spot for organic electronic meets post-rock for me.  Ambient at times, melodic other times.  His latest work has featured some vocals, but he's primarily a groove-induced soundscape kind of guy.  Chirps and glitches, too.  Excellent stuff!
«°¤°» ¤ ¤ «°¤°»
05 Radiohead "Codex" from The King of Limbs



I could probably put the "indie" icon next to Radiohead, too… I think technically they put TKOL out by themselves.  But they're a huge superpower of a band.  I like this record, but I'll admit that it's still sinking in… I need to give it some more spins.  This album spawned a seven 7″ vinyl remix set.  The video for "Lotus Flower" also spawned a silly "Thom Yorke dancing" meme… one of my favorites being the tennis/fish and the "Single Ladies" editions.
«°¤°» ¤ ¤ «°¤°»
06 Garage A Trois "Assault on Precinct 13" from Always Be Happy, But Stay Evil




Skerik, Stanton Moore, Marco Benevento (who replaced Charlie Hunter) and Mike Dillon make their way through Oregon quite a bit.  They are a sight to see – you don't know exactly what kind of show you'll get, but it's definitely a fun time.  Fun, groove-oriented "new jazz."
«°¤°» ¤ ¤ «°¤°»
07 dredg "The Tent" from Chuckles and Mr. Squeezy




I love this band.  I hate the album title, but I love the band.  Modern progressive rock, tons of talent, thoughtful lyrics, none of that "prog wankery" that is generally detestable.  While it's hard for them to follow-up the stunning The Pariah The Parrot The Delusion, this new album does a hearty job of maintaining their quality rock standards.
«°¤°» ¤ ¤ «°¤°»
08 Tres Mts. "Makes Me Feel" from Three Mountains

Supergroup made up of dUg Pinnick of King's X, Jeff Ament of Pearl Jam, and Richard Stuverud of the Fastbacks.  They jangle through about an hour of solid rock tunes… more closely resembling a soulful King's X trajectory vs. Pearl Jam – mainly due to dUg's vocal duties.  This is a great trio that I hope isn't a one-off.  With King's X on tour in 2012, I doubt we'll hear more from Tres Mts for a while, though.

«°¤°» ¤ ¤ «°¤°»
09 Chamberlain/Krauss/Phelps "Everest" from Modular: Sonic Explorations




Gorgeous soundscapes from Matt Chamberlain, Viktor Krauss, and Dan Phelps.  The Modular Project is the collaboration of the aforementioned musicians working together to "discover what the spontaneous and organic manipulation of sound can yield. Inspired by the world around them, they set out to discover what it might sound like when continents shift, clouds form, and roots push through soil."  This track, "Everest," features one of my favorite cellists – Eyvind Kang (who has worked with Secret Chiefs 3, John Zorn, Bill Frisell, Mike Patton).  It's a great mix of cello, vibes and soaring atmosphere.  It's only available digitally or on vinyl (it's a luscious triple-gatefold!)…
«°¤°» ¤ ¤ «°¤°»
10 Jeffrey Foucault "Passerines" from Horse Latitudes



Jeffrey Foucault is a favorite
Americana artist that I got turned on to by singer-songwriter/storyteller Peter Mulvey.  Jeffrey and Peter work together in the band Redbird (with David Goodrich and Jeffrey's wife Kris Delmhorst).  I didn't pick up Jeffrey's albums until the past year and a half.  He's definitely more on the cusp of country than I tend to traverse, but I dig his authenticity, poetic wit and charm.  He's a delight on stage and a fantastic Prine-esque songwriter for the new generation.
«°¤°» ¤ ¤ «°¤°»
11 Peter Mulvey & David Goodrich "Drumlin Trail" from Nine Days Wonder

Peter Mulvey has toured all over the US and the world for about 2 decades.  Some of the first times I saw him in concert, he had "Goody" with him on backing guitar.  They don't get a chance to tour together much lately, but they did find some time to hole-up inside a studio to write and record some instrumental guitar duets.  While I love Peter's vocal storytelling, it's nice to hear his and Goody's instrumental interplay tell a different story.

«°¤°» ¤ ¤ «°¤°»
12 Steven Wilson "Home in Negative" from Grace for Drowning




Porcupine Tree frontman Steven Wilson is a hard worker.  Whether he's producing albums for others or making albums & touring with PT, Blackfield, No-Man, Storm Corrosion, or solo – he's always busy each and every year. 
This year brought his second solo album and a small tour.  The album is a bit more stripped down from his other projects.  It is reminiscent of Pink Floyd in spots – specifically this song "Home in Negative."  He also rocks out a bit in the almost two hour double album… check out the video for "Track One" here (it's a bit bleak then startling).  Gorgeous work.
«°¤°» ¤ ¤ «°¤°»
13 Wussy "Pulverized" from Strawberry

Well, I was super happy when I found out that Wussy was putting out their fourth full-length studio album this year. They're a fantastic rock quartet made up of Chuck Cleaver, Lisa Walker, Mark Messerly, and Joe Klug. They write catchy, poppy choruses and meld it perfectly with Midwest Americana-meets-indie-rock grit (or "Midwestern drone" as their press says).   Vocal duties are traded off with Chuck (of Ass Ponys) and Lisa (of Magic Words).

«°¤°» ¤ ¤ «°¤°»
14 Pomplamoose "Telephone" from The Album You Bought At Our Show…

This is the song that got me into Pomplamoose.  It's a cover of the collaboration between
Lady Gaga and Beyoncé (whose ridiculous but still kind awesome original video has 129 million hits as of Dec 2011).  Pomplamoose does "video songs," and this was the hook to lure me in.  Click the image at the left to see their video of the song.  The CD came out this year as part of their first tour ever… which I caught in Portland.  Excellent, fun band!

«°¤°» ¤ ¤ «°¤°»
15 David Bazan "Wolves at the Door" from Strange Negotiations

Continuing in his solo expressions after the official ceasing of Pedro the Lion, David Bazan manifests wit, a sharp tongue, and a questioning mind into his DIY-indie rock.  This year, he toured quite a bit, solo and with a band.  An album last year (Curse Your Branches), an album this year, and another on the way.  He's slogging away, trekking all over the country, and making some great music on the way.

«°¤°» ¤ ¤ «°¤°»
16 John Zorn "Song of Experience" from At the Gates of Paradise

"Channeling the work of Romantic visionary William Blake and ancient Gnostic writings from the Nag Hammadi archives, At the Gates of Paradise is the newest installment in Zorn's ever growing catalog of mystical works. The music is filled with bright light and a childlike innocence, and ranges from long form compositions with constantly shifting time signatures that unfold with a compelling inner logic to mysterious ballads and hypnotic moods."  The album features a quartet that I know and love from many jazz/avant outfits: drummer Joey Baron (Masada and many more), bassist Trevor Dunn (Mr Bungle, Fantômas, Nels Cline Singers), keyboardist John Medeski (Medeski Martin & Wood) and vibraphonist Kenny Wollesen (Sex Mob, Electric Masada, etc).

«°¤°» ¤ ¤ «°¤°»
17 Over the Rhine "Days Like This" from The Long Surrender

For those that don't know Over the Rhine, they started out as a four piece in Cincinnati in 1989 and put out their "post-nuclear, pseudo-alternative, folk-tinged art-pop" indie debut 'Til We Have Faces in 1991. After about a decade as a four-piece, Ric Hordinski (guitars) & Brian Kelley (drums) left.  Karin Bergquist (vocals) & Linford Detweiler (keys) carried on the Over the Rhine flame throughout the years… moving away from a rockier feel to a more folky-pop-Americana thing. What I like about Over the Rhine is they continually change and evolve into a different band with each album and each outing. I've seen them rock out, I've seen them jazz it up, I've seen them happy, I've seen them somber, I've seen them celebratory, and I've seen them tell stories that will make you laugh and cry.  This tune was written by fellow Cincinnati singer-songwriter Kim Taylor (it originally appeared on her 2008 EP The Greatest Story).  I'd highly recommend checking her out as well.

«°¤°» ¤ ¤ «°¤°»
18 Elysian Fields "Sleepover" from Last Night On Earth

Brooklyn-based sultry art rockers Elysian Fields don't really tour outside of NYC often.  Jennifer Charles and Oren Bloedow find their way to Europe on occasion, but most U.S. fans only really have their studio albums to sate their musical desires.  This is their sixth full-length album in their near 16-year career.  Well crafted, well produced, lush vocals and folk meets dusky jazz.

«°¤°» ¤ ¤ «°¤°»
19 Kevin Moore "Hypnogogic" from Shine

This is a little palette cleanser for the mix CD – right before the end.  Kevin Moore's main projects are the trippy/sample-heavy Chroma Key & heavier prog collaboration band O.S.I. (with Jim Matheos).  Shine is the soundtrack to the 2006 Turkish film Küçük Kiyamet ("Little Apocalypse").  It came out in early 2011 after a successful Kickstarter in 2010.  The next album from O.S.I. comes out in February 2012 on Metal Blade.  I can almost guarantee it will be my Top album of 2012, and I haven't heard a shred of it yet.

«°¤°» ¤ ¤ «°¤°»
20 Childish Gambino "Heartbeat" from Camp (warning: explicit content)

I first heard of Childish Gambino (aka Donald Glover) like many people – via television.  Donald plays Troy Barnes on NBC's Community.  I've heard a few of his albums, but this was his first full-length with a wide release.  This song almost didn't make the cut, but the melody in the chorus and the grinding keyboards just made it to difficult to ultimately cut from the mix.  Brilliant song about the messiness of dating.  If you'd like the "clean" version of the song, there is a "clean" version of the whole album on Amazon.

«°¤°» ¤ ¤ «°¤°»

Near misses from the mix: something from Earth's Angels of Darkness Demons of Light 1 & Opeth's Heritage (songs are too long) and Azealia Bank's "212″ (infectious as hell)… plus songs from several other albums that'll still be on my Best of 2011 lists (coming soon).

Let me know what you think… If you enjoyed what you heard, please support the music.  Definitely feel free to pass the link the mix along:

~Dan – np: Florence + the Machine – Ceremonials

there are no torrents, free mp3 or other downloads available