Happy belated* 237th birthday, United States!
*-everything I do lately is belated
~*~*~*~*~*~*~*~*~*~*~
So, here are my faves of the first half of 2013… and outside of the Top 5, it's all kind of random order on how I feel today… it's all bound to switch around by year's end (click album art for sound samples):
Artist - Album (style)

Thom Yorke's Atoms for Peace – AMOK (

electronic rock

)
Sigur Rós – Kveikur (

ambient icelandic

)
Kim Taylor – Love's A Dog (

singer-songwriter

)
Dave Douglas Quintet – Time Travel (

trumpet jazz

)
Fol Chen – The False Alarms (

electronic indie pop

)
Jeffrey Foucault's Cold Satellite – Cavalcade (

americana rock

)
Goddamn Electric Bill – Dead Alive (

electronic indie pop

)
Jon Madof's Zion80 – Zion80 (

jewish afrobeat

)
Pat Metheny plays John Zorn's Masada Book Two – Book of Angels, Vol. 20: Tap (

jewish jazz

)
Palms – Palms (

catharsis, a magical blend of Isis & Deftones

)
Mike Patton – The Place Beyond the Pines (

movie score

)
Overseas – Overseas (

indie rock

)
Pinnick Gales Pridgen – Pinnick Gales Pridgen (

soulful power trio

)
Steven Wilson - The Raven That Refused To Sing (and Other Stories) (

prog rock

)
Puscifer – Donkey Punch the Night -EP- (

rock

)
Les Rhinocéros – Les Rhinocéros II (

avant jazz rock

)
Steven Bernstein's Sexmob – Cinema, Circus & Spaghetti: Sexmob plays Fellini: The Music of Nino Rota (

trumpet jazz

)
Tegan and Sara – Heartthrob (

pop

)
Tomahawk – Oddfellows (

hard rock

)
Wussy – Duo -EP- (

indie rock

)
I didn't get a few that already came out this year (yet) and whatever "et cetera" that the cool kids are listening to these days; but they may make it to the list at the end of the year.
The 2nd half of 2013 promises to bring some potential great ones, too… a few more from John Zorn, Over the Rhine (a double-album Meet Me At the Edge of the World & new holiday album), George Hrab's 21812 live CD/DVD, another from Holy Fuck, new Nellie McKay (rumored), Levi Weaver (pledge now!), 3rd Ear Experience (just got in the mail), Chali 2Na (more EPs in the Against the Current series), Au4 & Digital Noise Academy (physical CDs for their late 2012 digital only), yMusic, and many more…
Favorite concerts of 2013 (so far):
Tomahawk in Portland (Feb)
John Zorn @ 60 in Minneapolis (Apr)
Charlie Hunter, Booker T. Jones & Carlton Jackson in Portland (Apr)
Prince in Portland (Apr)
Secret Chiefs 3 – two nights / four sets in Seattle (May)
and tons more where I didn't write a review


(click pictures below for review links)
~Dan – np: 3rd Ear Experience (with dUg Pinnick of King's X) – Boi

Last night, I was invited to a beautiful outdoor house concert / potluck… The Littlest Birds played a long, entertaining set amidst the garden and kids running about.  Check them out on the Facebook, and if you're in the Eugene Oregon area, check out Bronak House Concerts and Events.
Oh, but wait… I said "potluck"… I had a hankering for something new, and decided to take a classic flavor combination and see if it'd work with a tried-and-true scone recipe.  I made…
Fuji Apple and Aged
.
White Cheddar Scones
…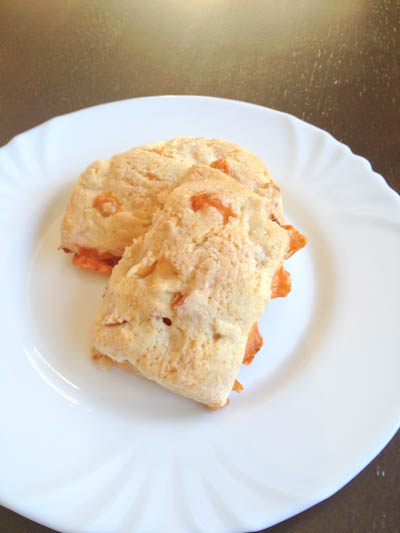 Ingredients:
makes 8-10 regualr sized scones
(I made a double batch and cut them smaller)
1 Fuji apple, cored & diced into small pieces
1 to 2 Tbls coconut oil
1/2 tsp cinnamon
- – -
4 to 5 oz. aged white cheddar, diced into small pieces
- – -
1.5 cups flour
1/3 cup sugar
2 tsp baking powder
1/2 tsp salt
1 cup heavy whipping cream (split into 3/4 cup & 1/4 cup)
1/4 cup sugar & cinnamon, mixed
Steps:
Sautée diced apple with the coconut oil until lightly brown (but still retain some firmness).  Add cinnamon, stir and remove from heat.  Cool the apples.  If making the scones right away, place apples in the freezer for ~5 minutes.
Preheat oven to 375 F.
Mix flour, sugar, baking powder and salt together in a large bowl.  When mixed, make a big hole in the middle of the mixture and add 3/4 cups of whipping cream.

Before

mixing the liquid in further, spread flour out on a clean surface (keep extra flour handy in a bowl, as the mixture will be sticky).
Add the cooled apples and diced cheese to the dry & whipping cream mixture.  Stir or mix with your hands until the mixture is crumbly.  Turn the dough onto the floured surface and continue to knead.  At this stage, I ended up adding more flour to make it more doughy and less gooey.  Rather than alter the recipe and add more flour to the mix early on, I figured that it's good to play it by feel/texture.  It should be soft and malleable dough, not too sticky.
Roll out the dough flat until it's about 1/2″ thick.  Cut with a pizza cutter, sharp spatula, or other tool into the shapes / sizes that suit you.  Place on a lightly greased or parchment papered baking pan.
Bake for 21-24 minutes until lightly golden.  After baking, brush with remaining whipping cream and sprinkle with cinnamon-sugar mix.  Cool slightly before serving.
Prep time: 30-45 minutes… best served warm or within the day!

And, obviously, different apple and cheese choices open this up to MANY different options at your fingertips.
This slideshow requires JavaScript.
This is a mainly music-based blog. If you stumbled in on a recipe search, check out my other recipes at THIS LINK.
Categories:

Concert Photos, Food
apple, cheese, foodporn, house concert, littlest birds, recipe, savory, scone, scones, sweet, vegetarian recipe, white cheddar
David Bazan is off on another jaunt of a 40+ house concert tour.  Last night's show at the McKenzie Study Center at Gutenberg College wasn't technically a "house," but it still had that living room feel.
He showed up a tad late, but after quickly setting up, he entertained a few questions and then kicked into his set…
Setlist: about 75 minutes

Q&A #1
Hot Girls [Headphones]
Fewer Broken Pieces
Big Trucks [Pedro the Lion]
Man In Me [Bob Dylan]
Q&A #2
"I write it down for what it's worth" [new song, no title mentioned]
Hard To Be
Virginia
Shit Talker [Headphones]
Q&A #3
Wolves At The Door
Selling Advertising
Of Minor Prophets and Their Prostitute Wives [Pedro the Lion]
Q&A #4
The Fleecing [Pedro the Lion]
Cold Beer and Cigarettes
Q&A #5
Strange Negotiations
No Encore
Some Bazan-related news…
1) His newest side-project Overseas is up for pre-order now.  If you pre-order it, you get a download of the full album immediately.  I got it a couple weeks ago, and I dig it.  Overseas is David Bazan, Will Johnson, Matt Kadane and Bubba Kadane…. and in the 2nd Q&A I asked if they were going to tour.  He said that they will likely do a limited set of dates: a few Texas dates, New York area dates, and then a limited West Coast run (LA, SF, Portland, Seattle).
2) On this tour, though he didn't have them available last night, is a art print that comes with a download code for a Covers EP.  He didn't have them last night, but noted that we could buy it online (soon) without shipping fees.  He should have them soon on some of the other dates on this tour.  He mentioned the Bob Dylan cover, Radiohead's "Packt Like Sardines in a Crushd Tin Box," and a few others will be included.
The Appropriate Linkage:
My Other Related Reviews~
This was his second date of this tour… check out more tour dates below (sorry, many are already sold out).
Next show for me… Infected Mushroom at McDonald Theater (4/25).
~Dan – np: Pet Bottle Ningen – Non-Recyclable

David Bazan – Spring 2013 House Show Tour
04/23/13 Tue – Portland OR - SOLD OUT
04/24/13 Wed – Eugene OR - SOLD OUT
04/25/13 Thu – Redding CA
04/26/13 Fri – Sacramento CA - SOLD OUT
04/27/13 Sat – San Francisco CA – SOLD OUT
04/28/13 Sun – Hollister CA
04/29/13 Mon – OFF
04/30/13 Tue – Los Angeles CA – SOLD OUT
05/01/13 Wed – Costa Mesa CA - SOLD OUT
05/02/13 Thu – Riverside CA - SOLD OUT
05/03/13 Fri – San Diego CA - SOLD OUT
05/04/13 Sat - Tucson AZ - SOLD OUT
05/05/13 Sun – Phoenix AZ - SOLD OUT
05/06/13 Mon – OFF
05/07/13 Tue – Graham TX
05/08/13 Wed – San Antonio TX - SOLD OUT
05/09/13 Thu – Houston TX – SOLD OUT
05/10/13 Fri – Baton Rouge LA
05/11/13 Sat – New Orleans LA - SOLD OUT
05/12/13 Sun - OFF
05/13/13 Mon - Orlando FL - SOLD OUT
05/14/13 Tue - Jacksonville FL - SOLD OUT
05/15/13 Wed – Augusta GA - SOLD OUT
05/16/13 Thu - Atlanta GA – SOLD OUT
05/17/13 Fri – Columbus GA
05/18/13 Sat – Birmingham AL - SOLD OUT
05/19/13 Sun – Memphis TN
05/20/13 Mon – OFF
05/21/13 Tue – St Louis MO - SOLD OUT
05/22/13 Wed – Kansas City MO - SOLD OUT
05/23/13 Thu – Tulsa OK - SOLD OUT
05/24/13 Fri – Oklahoma City OK - SOLD OUT
05/25/13 Sat – Lubbock TX
05/26/13 Sun - Los Alamos NM
05/27/13 Mon – Prescott AZ
05/28/13 Tue – Las Vegas NV
05/29/13 Wed – OFF
05/30/13 Thu – Davis CA
05/31/13 Fri – Chico CA - SOLD OUT
06/01/13 Sat – Phoenix OR (Medford)
06/02/13 Sun – Portland OR - SOLD OUT
Categories:

Concert Photos, Indie Rock, Rock & Pop, Singer-Songwriter
bob dylan, Bubba Kadane, concert photo, concert review, cover versions, david bazan, eugene, gutenberg college, headphones, Indie Rock, Matt Kadane, Overseas, pedro the lion, rock, set list, setlist, singer-songwriter, Will Johnson